An Introduction to Sandwich Core Materials
Sandwich Core Materials are lightweight, structural layers that are embedded between laminate layers to obtain a higher strength-to-weight ratio. By employing sandwich core materials in your part or mold, you can achieve much higher flexural strength and flexural modulus than using skin laminates alone.
Fibre Glast Carries the Following Core Materials:
Nomex® Honeycomb
3 lb. Vinyl Foam
5 lb. Vinyl Foam
End Grain Balsa
DIVINYMAT Structural Flow Media
Laminate Bulkers
Polyisocyanurate Foam Sheets
Polyurethane Mix and Pour Foam
The normal method of building a composite sandwich is to laminate the outer skin by conventional means in a mold then lay the core material into the wet laminate. The inner skin is laminated onto the top of the core material effectively sealing it. Sandwich core laminates of this type are used to stiffen various composite applications such as boat hulls, automobile hoods, molds, and aircraft panels. By increasing the core thickness, you can increase the stiffness of the sandwich without substantially increasing weight and cost.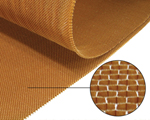 Nomex® Honeycomb
Honeycomb is a series of cells, nested together to form panels similar in appearance to the cross-sectional slice of a beehive. In its expanded form, honeycomb is 90-99 percent open space. Nomex honeycomb is fire retardant, flexible, lightweight, and has good impact resistance. It offers the best strength to weight ratio of the core materials. Nomex honeycomb is used primarily for structural applications in the aerospace industry.
Vinyl Foam
Vinyl sheet foam is one of the most versatile core materials on the market. It is a rigid, closed cell material that resists hydrocarbons, alkalis, dilute acids, methyl alcohol, sea water, gasoline, diesel oil, and it is self extinguishing. It has been used extensively in aircraft and performance automotive structures, but it can be applied anywhere that high properties and easy handling are needed. Vinyl foam can be thermoformed in an oven or with a heat gun while applying gentle pressure. For ultimate peel strength, use a perforation roller to increase the surface area of the foam. The peel strength will increase an additional 15-20% after perforation.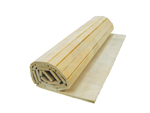 End Grain Balsa
End-grain balsa is the most widely used core material. It is both a relatively high strength core and less expensive than vinyl or honeycomb. It achieves its high compression strength because on a microscopic level it has a honeycomb type of structure yet is quite dense. It is easy to cut and bevel and is available in 29×49 inch sheets. The individual small blocks of end grain balsa are bonded to a light scrim fabric which makes the sheet quite flexible.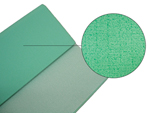 DIVINYMAT
Structural Flow Media. Engineered specifically for vacuum infusion, this core material is grooved, perforated, and scored to create flow channels for resin. A 3.8# Vinyl Foam, Divinymat offers the highest structural properties of any available flow media. Bonded to a light scrim cloth, this core will conform to most simple curves and shapes. 1/8″ thick x 32″ x 48″.
Laminate Bulkers
By allowing easier resin distribution throughout a part, these Laminate Bulkers act as strong interlaminate links between different layers of reinforcement. Also, Laminate Bulker materials add screw retention capabilities to laminate parts. Compared to bulk laminating with fiberglass, these Laminate Bulkers provide tremendous weight savings. Withstands severe duty fatigue, low resin consumption, excellent impact barrier, low shrinkage, superior shear strength, prevents stress cracks on gel coated parts, maintains a constant thickness, Easy to use.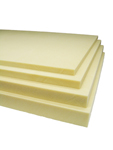 Polyisocyanurate Foam Sheets
This sheet foam is a rigid, closed cell material with excellent thermal insulation and flotation properties. This core has been at the heart of the marine industry for decades and is fairly inexpensive when a lower property cored laminate is needed. It is compatible with both polyester and epoxy resin systems. This foam is easily cut and shaped with a sharp knife and sandpaper. Pattern-making has never been quicker! It can also be glued together to form blocks as thick as necessary for shaping functional moldless-type parts.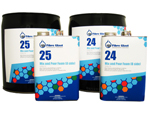 Polyurethane Mix and Pour Foam
This foam is a rigid, closed cell material with excellent thermal and floatation properties. While it is not generally suited to the classic sandwich core laminate described in this brochure, it can be poured into any closed cavity to stiffen the structure. The free rise density is 2 lbs. per cubic foot, but closed mold techniques can increase the density when required. Small amounts of this foam may be added to the Nomex honeycomb to fill the cells. The filled honeycomb is then much easier to bevel and shape.
Read the full Guidelines for Sandwich Core Materials whitepaper
Watch the Video Below

Watch the Entire Series
Sign Up for the Fibre Glast Newsletter